Your Global Digital Publishing Partner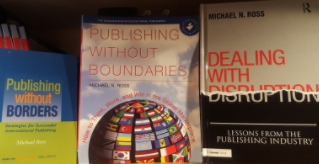 Author, Industry Expert, Thought Leader

​

Michael has written and spoken extensively on digital publishing, educational technology, licensing, and intellectual property, as well as the development process, trends in education and publishing, marketing, distribution, and sales. In addition to articles in books, magazines and blog posts, he has authored three books:​
P​ublishing without Borders:
Strategies for Successful International Publishing
(2003, Xcellent Marketing)
Knowledgeably written by Michael Ross (an international licensing expert) . . . Publishing without Borders: Strategies for Successful International Publishing is a concise, practical, easy-to-use, no-nonsense guide to proven and professional strategies for successful global publishing. From legal issues; to keeping track of handling unexpected challenges; to taking advantage of international book fairs, and much, much more, Publishing without Borders will prove immensely valuable for any novice (or experienced!) publisher seeking an international marketplace for their titles. If you have a book that you want to sell in Canada, Europe, South America, or anyplace else in the world—then get yourself a copy of Michael Ross's Publishing without Borders so you can "hit the ground running" with your marketing plans, strategies, and policies.
Midwest Book Review on December 13, 2003
Publishing without Boundaries:
How to Think, Work, and Win in the Global Marketplace
(2007, The Association of Educational Publishers)
Very highly recommended and instructive reading, Publishing without Boundaries: How to Think, Work, and Win in the Global Marketplace by Michael N. Ross . . . focuses upon the impact digital publishing has had on the publishing industry, how to work with international publishers, and how American publishers can maximize development efforts. Publishing without Boundaries is designed to teach publishers how to adapt what they do to other cultures and media for the purpose of establishing relationships, negotiating licensing, and developing co-publishing contracts. Of particular importance to educational publishers, Publishing without Boundaries has a great deal of relevance and value for American trade publishers, niche publishers, independent publishers, and self-published authors seeking to expand their markets into other countries.
Midwest Book Review on June 9, 2007
Dealing with Disruption:
Lessons from the Publishing Industry
(2016, Routlege)
https://www.amazon.com/Dealing-Disruption-Lessons-Publishing-Industry/dp/1472456874/ref=sr_1_1?ie=UTF8&qid=1515278576&sr=8-1&keywords=dealing+with+disruption%3A+lessons
Humorous in a way only Michael Ross can be, this book thoughtfully and practically demonstrates how the digital age is disrupting the publishing industry but also brings opportunity to meet educational needs meaningfully while growing a successful business. Noteworthy case studies illustrate Ross's concepts and offer rich new ideas for providing content in innovative and exciting ways. I highly recommend this book.
Rachelle Cracchiolo, Founder, Teacher Created Materials
Michael Ross writes from long experience with ease and authority. His analysis of change in audiences, creative development, marketing channels and financial models in global publishing is insightful and succinct. His practical examples illustrate his argument with clarity. Michael's conclusion, that disruption challenges us by solving problems that the market—all of us—creates through the decisions we make, underpins his overarching philosophy: that no civilized society exists without the vigorous interchange of continuously minted fresh ideas.
Ian Grant, Chairman, Inpress Books Ltd; Partner, Creative Structure Ltd